WARNING: THE FOLLOWING REVIEWS MAY CONTAIN SPOILERS!!

Vampire Free Style reviewed by Mary Lee - Paranormal Book Lovers
(http://paranormal-book-lovers.blogspot.co.uk/2012/04/vampire-free-style.html) 

I'm usually not into comics. But when I was offered to read the first 6 issues of the series "Vampire Free Style" by the artist Jenika Ioffreda... I accepted as soon as I saw some examples of her great artwork. I fell in love with Micia - the little black cat right away. But see for yourself... could you resist this cutie?
The story...
a witch boy who adopts a not so ordinary cat and is learning how to fly...
an eccentric aunt who loves to dress up cats and owns a witch shop...
a guy who lost his memory and who sees beyond the facade...
a hidden castle and a lost love...
The artwork is black/white and in a beautiful way gothic and dark... and at the same time enchanting like a fairy tale.
The story is magical and romantic and I love the way the characters are drawn. The cat is without question the five star cutie of the story. The funny aunt - who likes to dress up the cat in silly costumes - is never drawn with a face, which was a really good idea. The witch boy Padroncino is besides the cat my favorite character. He's very likeable and his tests of learning how to fly are really funny. I don't want to give away too much of the story, so let me just tell you I really loved this story so far and I will definitely read the next books in the series. I recommend "Vampire Free Style" for teens and grownups alike - if you're into a sweet and timeless story about witches, vampires and magic.
My rating: 
4.5 stars out of 5 stars

Vampire Free Style reviewed by Stormy Janes - Paranormal Romance Guild (www.paranormalromanceguild.com)
Vampire Freestyle is a unique comic book series that has an anime feel to it, and closely resembles manga type books, only with slightly more dialogue. The story centers around Padroncino, a boy learning to be a witch. He is looking for his girlfriend Elea, who has mysteriously disappeared.

Padroncino finds a stray black cat, Micia, and gives her a home. We quickly learn that Micia is no ordinary cat and when she crosses the path of Edward, he sees her as something totally different! As we are introduced to the other characters, we see their personalities and traits are uniquely their own. How the characters are illustrated was something I did enjoy as it added a lot of mystery; such as an Aunt whose face you never see, names that are not revealed right away and a vampire with no memory.
Admittedly, the first issue was slightly difficult to follow. Fortunately, there is an introduction in the beginning of the following issues that give a brief synopsis of where the story left off. The story is well developed by the third issue, and is much easier and more enjoyable to follow. The plot starts out rather simple, however it does gain depth and complexity as it moves along.

Vampire Free Style is very different from a typical vampire story. It is romantically dark, filled with mystery, magic and suspense. The artwork is beautiful with a gothic feel. It is appropriate for all ages but would probably be enjoyed the most by a younger audience.

 Vampire Free Style reviewed by Olivia -Vampire Romance Books (vampireromancebooks.com)
I am delighted to be able to tell you about a wonderful addition to vampire romance.   
I felt as though I were reading through a dark, romantically poignant dream as I read Vampire Free Style.  This is a beautifully written tale of lost love, ancient mysteries, and magic.  The story line is tight and fresh and so is the medium.  Hold on to your hats because I'm talking about ….dum ta dum!…..comic books!   There is nothing funny about these comics though, they are outstandingly awesome and suitable for ALL ages.  In other words, all you readers that are 20, 30, 40, and beyond, will LOVE Vampire Free Style just as much as the under 20 crowd.
The story begins with a cat that crosses the path of two men.  One of them, Edward, sees a woman when he looks at the cat.  The other is a sad young witch in training named Padroncino.  He is sad because his girlfriend has mysteriously disappeared without a trace and all efforts to locate her have failed.  The cat follows Padroncino home where she begins to have memory flashbacks of being with Padroncino as a human girl.  Meanwhile, Edward begins having his own visions of the girl he saw, and forgotten memories from 300 years ago begin to emerge.
Vampire Free Style is beautifully illustrated with a gothic/emo style.  Done in black and white, each page still conveys light, texture, and emotion.  The transition from frame to frame is immaculate.  The pages have the slick and glossy look and feel that is found in illustrated books of high quality.  Sometimes in manga the characters all look pretty much the same, but here, each character is uniquely drawn and easy to identify.   The women are lovely and far from being the sexually exaggerated Barbie dolls often associated with comics.   The style is charming and inviting.  The plot line is complex, but easy to follow, and holds the attention of the reader.   The supporting characters are interesting and mysterious as well.
I strongly recommend this series.  You will not be disappointed and will find the uniqueness of the medium to be a positive rather than a negative.  Reading a great story and looking at quality illustrations is something that grownups can enjoy just as much as the young ones.   Readers will be enchanted.   I was left craving more and will definitely be a follower of this series as new volumes are released.



 Vampire Free Style reviewed by Anna Dougherty- Bite Club (vampchixreadbooks.blogspot.com)
How do you rate a comic? Do you evaluate the story alone, similar to how you might judge a short story, or do you focus more on the artwork as a basis for telling the story? What is the happy middle ground? This was a real challenge for me because I wanted to present a fair and cohesive review of this fun, vampire themed comic book series. Each comic itself is short and sweet, averaging about 20-25 pages, with what I would gauge to be a medium amount of dialogue. It wasn't until the third volume that I really became interested in the actual plot of Padroncino's missing girlfriend. I thought the flashback scenes added to he mysterious element and I almost wished for a few more.  Padroncino isn't the best witch on the block but he was certainly fun to watch. His bumbling spell attempts were cute and reminded me of that kid in Harry Potter, the one that always has things blowing up in is face. It seems like once Padroncino gains confidence he might see that his talent is real, and works just fine, but his negative energy is currently blocking his ability to see. He is definitely a young character and this leads me to think that this series is well aimed at the ever-growing YA crowd. Overall, a very whimsical and quirky vibe that is conveyed nicely throughout with both images and words.Some plot points were a bit obvious and I could guess what direction the story would take, while others maintained the air of mystery. Who is the Master? Will Padroncino ever find his girlfriend? What outfit will the poor cat (Micia) be forced to wear next? Guess I need to read volume 6 to find out.


 Vampire Free Style reviewed by Roxanne - Fang Tastic Books (fang-tasticbooks.blogspot.com)
When I was offered the chance to review the graphic novel/ comic book series Vampire Free Style I almost said no.

I'm not much into comics but one glimpse at the books with their vibrant and whimsical covers changed my mind. The drawing style immediately made me want to see more.
Plus my daughter- who just turned 12- adores comic books and graphic novels.
So I said yes, I'd review the series.
I am extremely glad that I did.
I received them and read through them right away. The vibrant art pulled me in while the story kept me turning pages.
I love the very colorful pages, the amazing artistic detail and style, the creative characters and of course- the magical story. A cat, a vampire, a witch in training...a great cast of characters that had me enchanted right from the beginning.
I loved that the story develops quickly but is still filled with mystery. The characters are not overly complex but not shallow either.

It's sweet and appropriate for all ages- which is something that really appeals since my daughter and her friends quickly ran off with the books.
Over the weekend a houseful of girls ages 11- 18 all read the first 5 issues of Vampire Free Style- each and everyone of them- and they loved them and wanted to know when the next books would be out.
I think that means the books received the tween and teen stamp of approval.Try the series- you'll love it and want more. I know I do. So does my daughter and her friends.
Even non comic book readers will love these books- if only for the artwork.



 Vampire Free Style reviewed by Moonlight - (www.vampires.com)
Vampire Free Style is a self-published comic series written and illustrated by Jenika Ioffreda. I recently got my hands on the first five issues of this unique comic, a comic that tells a mysterious tale of lost love, old secrets, magic and one odd little cat.

Jenika's Vampire Free Style is like no other comic I have read before, the story is rather different than other vampire stories out there, and so is the artwork. Jenika's art style is fantastic and completely her own, I absolutely adored it, and like every newbie artist, it improved throughout every issue. Jenika definitely earns points for the artwork. However, since there are typos and a few pages that should have had a little more work done to them before going to print, she loses a couple points. With a few touches here and there, the comic could really shine.As for the story itself, well, as I started reading I was instantly lost, I had absolutely no clue what was going on – a cat that has visions, a witch with his broom, a vampire and his lost memories – lots to figure out. But, as I continued the storytelling improved and by the time I got to the fifth issue I was dying to find out what happens next. The story is incredibly complex and unfortunately it's difficult to tell a story like that in a comic where dialogue is limited. Luckily, at the beginning of each issue to get a refresher of the story so far, and that helps tons.Overall I really enjoyed Vampire Free Style, as of issue five there are loads and loads of unanswered questions and I can't wait to see where the Jenika takes the story. While she may be new to the comic scene, I can see her becoming a huge hit in time.
 Vampire Free Style reviewed by Anna May -
Anime Picks (www.animepicks.com)

Vampire Free Style is a short manga style comic produced by Neptune Factory. Neptune Factory is run by the uber friendly Jenika Ioffreda who self publishes all her comic issues, and sells them through numerous online, and local stores.
Vampire Free Style tells the story of Padroncino, a young man that's learning the ways of the witches. His girlfriend vanished not too long ago and he is doing everything in his power to get her back. Along the way he meets a small, personality filled cat who he names Micia. Padroncino has no idea that Micia has many memories connected to him, and as more unfold we see her for who she really is.Jenika has a gorgeous drawing style that pops out of every page. It's a subtle mix of american comic with its firm facial structures, and Japanese manga through its comedic expressions and shimmering eyes. Not only is this style great, it actually gets better with every issue.The real star of Vampire Free Style is Micia- no question. Not only is she cute, but those huge eyes pack a trunkful of expressions that make her the most entertaining character in the series.Although I speak mostly of comedy, the comics offer a huge depth of character as well. The story is complicated and emotional, which is brought through cleverly with each individual character. Nothing is overdone here, emotions are balanced throughout to keep the story flowing- something which I can only commend Jenika for.Vampire Free Style is a completely charming little series that will reignite your love for vampires, and make you smile with every page.

What Jenika has to say about self-publishing:
"I totally love self publishing. It gives me the freedom to draw whatever I want, whenever I want and in any way I want. I love every moment of it. Of course I would be happy to have an official publisher but for now I really like self publishing. It's not hard, it is actually very pleasant."

 Vampire Free Style reviewed by LillyHawk - Gothic Blend(www.gothicblend.net)

Recently something cute and adorable found it's way onto my doorstep. Since I'm a sucker for such things, I just had to pick it up even though I knew it might bite. With a name like Vampire Free Style it probably had some teeth...But I had to find out what it was and what it was doing on my doorstep.

With those big pleading eyes on the front cover of Issue #1, I couldn't resist seeing what was hidden inside. There is a delightful mix of mystery and mirth in each edition. After reading Issues 1-5 the mystery began to unfold and each one left us eager for the next. I say "us" because our 13 year old daughter discovered them hiding under my chair and absolutely fell in love with them, too! We both adore Vampire Free Style, just as if it were little lost kitten that had found us and we can't wait to see what will happen next. It was enjoyable in spite of the fact that English is not the author's native language. There are a few references that US readers may find obscure or bit confusing. But, this actually added to the charm and the settings of the stories. If you like a mixture of anime, magic, romance and mystery, then check out Vampire Free Style! I asked author Jenika Ioffreda what inspired these comics and here's what she had to say:
"About what inspired me for the comic series, the main character, Micia, was inspired by a joke between me and my boyfriend years ago.
We are both from Italy and in Italian language "Micia" it means "female cat" and it's quite common name for female cats.
He was calling me Micia as a joke and I started to draw myself in a shape of cat whenever I needed to leave him a note.
Slowly the cat that I was drawing more and more started to take a life of her own... and there Micia was born. In 2003 I moved from Italy to United Kingdom and while I was on the train going from the airport to central London, I saw the roofs of some houses and I started to think I wanted draw a new comic book about characters very familiar with roofs.
The idea of a witch who was learning to fly come out and slowly all the other characters come out too. All the characters and situation are inspired by people I really met and situation I really lived and also by dreams I had while sleeping. "

 Vampire Free Style 5 reviewed by Richard Bruton - Forbidden Planet International(www.forbiddenplanet.co.uk/blog)Vampire Free Style 5 – a lovely gothic romance comes together nicelyMore cute goth stylings with a manga touch from Jenika Ioffreda. 
In this issue we venture 300 years into the past to a forbidden love between a vampire and a human girl; a girl looking to master the Umbra Luna spell capable of restoring things to their original forms – possibly even vampires?
In the present day we rejoin Micia the cat with the ability to speak to the stars, Padroncino the witch boy in training searching for his recently disappeared girlfriend Elea and a coven of vampires that includes Edward, a vampire who sees Micia the cat as a beautiful girl very similar to Elea.
Connections, connections, connections….. even bonkers Auntie Margherita, previously only here to dress Micia the cat in daft costumes seems to have some role to play in the drama's conclusion. It's too close to the end to try to explain without giving away plotlines, but there's a lovely preview image on Jenika's website that serves the purpose quite nicely: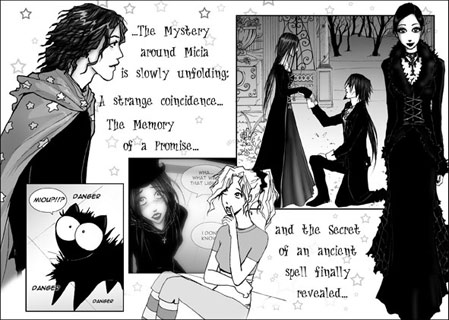 I'd previously described Vampire Free Style as "an absolutely delightful book", with "a lightness and playfulness throughout" where "the cuteness coexists happily with a sense of loss and sadness that, if Jenika handles it right in forthcoming issues, will make this book far more than the cute Manga Goth book it superficially resembles".
And based on the 5 issues so far I think she's managed it. In this penultimate issue all of the tangled, tantalising threads of the comic's story are beginning to come together. The manga-esque style fantasy is losing it's comedy and cutesy factor but this is replaced by a strong story where everyone and everything is falling into place.
It's looking like it will all come together as a lovely, well drawn, gothic fantasy fairy story – and that's gothic more in reference to the genre combining horror and romance than the obvious gothic elements of vampires and dark haired young women with top hats and black dresses.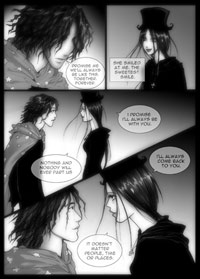 Vampire Free Style is available from Jenika's website. With one issue to go it's a perfect time to catch up.

 Vampire Free Style # 1, 2, 3, and 4 reviewed by Richard Vasseur from Jazma Online (http://forums.jazmaonline.com)

Title: Vampire Free Style # 1
Rating: 4 out of 5 stars 
There is one strange cat in this comic. It is drawn simple but oddly shaped. The cat meets a would be witch. They were made for each other.
The art is unique a manga gothic style. It is a delight to see. It is fun, weird and beautiful.
The story moves along nicely following the cat Micia. Micia is going to be a central character even though Micia is a cat. The witch in training is cute as well and he is portrayed as a very nice witch. The Prince is a mysterious figure with a beatnik look.
Not a lot is explained about these various characters so there is a strong sense of mystery here. It works as you will expect it to be revealed a small amount at a time. The witches name is not revealed, his aunt's face not shown, nor the Prince's name revealed yet. The last page of the story does reveal a surprising secret and it is done within one wonderful illustration that has to be seen to fully appreciate.

Title: Vampire Free Style # 2 
Rating: 5 out of 5 stars 
Things are not what they seem as is the case with this cat, Micia. She is a mystery. Now when stars start talking to her things turn stranger.
Edward the gothic looking guy appears to see the cat as more than a cat. The cat's other look, her true self is so cute and sexy. The drawings of her in her true form are beautifully done.
There is some beautifully illustrated scenery. Edward's home is a gothic mansion. The art style is a delight to behold.
Each issue offers some answers and more mysteries. There seems to be a growing attachment between the cat and edward. All of the characters slowly grow on you. They draw you into their lives.
Both the art and story combine to deliver an experience unlike any other comic you have seen. It is truely unique.

Title: Vampire Free Style # 3 
Rating: 4 out of 5 stars 
We get a needed synapsis of all the main characters here. You can't tell the characters without a score card.
The cat, Micia is so weird. She mion's lots. She is always around and seems to know a lot more of what is going on than a cat would. She is a nystery. All the people have a gothic appeal to them. As you read through the comic some answers are revealed and more mysteries occur. You are always pulled into the story. It draws you in and holds you in its grasp.
The Cool Girl's relationship with Micia the cat is funny. The manga style to the art shows Coll Girl's emotions beautifully.
The art style is a beautifully rendered gothic manga style that is a delight to look upon. The story does have a slight romantic touch to it as well.
This issue Edward gives and gets a surprise. Its not entirely unexpected but still a nice surprise.
Unique art and a mysterious story make this comic a wonderful read.
Title: Vampire Free Style # 4 
Rating: 5 out of 5 stars
What do a vampire prince, a witch in training and a weird cat who may or may not be an angel have in common? They can all be found within these pages.
The story is filled with mysteries. As one unravels another takes its place.
The art is outstanding as it illustrates the people and scenery in a gothic delight.
The story is a romantic one filled with heroisim and lost love. More is revealed about Edward and Padronino.
Of course Micia the cat is present. She is a strange pet as she MIOUs. Its easy to tell she is no ones pet.
Edward's past is revealed 300 years in the past. He is quiet the dashing figure and his lady friend Elea as well is a gothic vision of loveiness. It looks as if their might be a love triangle here as well. 
All these characters are wonderful to join in their world as the story pulls you in. You will imagine you are part of this world. Both story and art will exsnare you in its magical embrace.