Midnight Tea series:
A ghost story set in 19th century. It follows the adventures of Miss Amabella Lovedy (Amy for short), a girl who can see ghosts and those of her friends: a clever street urchin and his loyal dog, her grumpy housekeeper, a handsome duke and his mysterious companion.
The ghost she is asked to investigate is connected to a dark secret from Amy's past. A secret someone wants to keep very closely guarded.
Between mysteries, magic, intrigues, midnight rendevouz and tea the lives of Amy and her friends will never be the same.

Midnight Tea #1
Due to be released on
January 2016

Vampire Free Style series:
A witch boy in training is looking for his girlfriend who mysteriously
vanished. Whilst searching for her he meets Micia, a stray black cat who
speaks with the stars in the night sky and knows something about the missing
girl: something connected to a magic necklace, a vampire looking for his
memories and a 300-years old forbidden love.
Previews from issue 6:
As Micia's real identity is revealed and Edward finally recovers his lost
memories, friends and foes from the past return...
| | |
| --- | --- |
| | previews from issue 5: |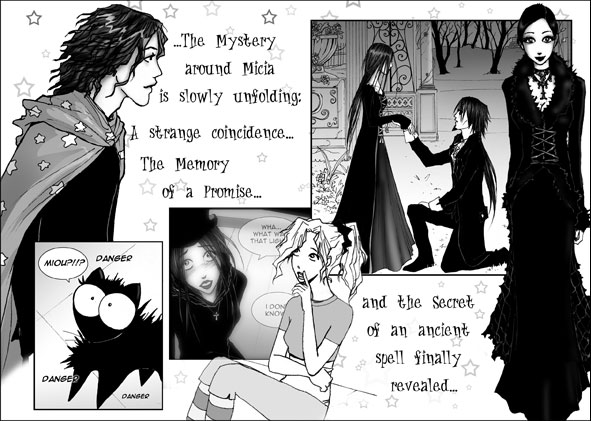 previews from issue 4:
Edward starts a journey through his lost memories.
Padroncino discovers something about his missing girlfriend...
And someone shows a big interest in Micia's whereabouts....someone who may know a lot about Edward, Micia, the missing girl and what happened 300 years before...

previews from issue 3:
An old legend, a vampire and a strange surprise...
previews from issue 2:
While Padroncino keeps looking for his missing girlfriend,
a mysterious necklace comes to Edward...
previews from issue 1:
A witch boy in training, Padroncino, gives home to a stray black cat, Micia.
But the cat is more than she appears to be...

MICIA:
A mysterious black cat. She speaks with the stars and she has many flashback memories about Padroncino.
PADRONCINO:
A witch boy in training who gives Micia a home. He his looking for his girlfriend who mysteriously vanished .
.EDWARD:
A guy with a secret past. He seems to be connected to Micia and the girl he can see through the black cat.
?:
The girl Edward can see whenever he looks at the black cat Micia

AUNTIE MARGHERITA:
Owner of "Bella di Notte"* Witch Accessories Shop. She is mad about dressing up dolls and (unluckily for Micia) she found in the cat her best doll to dress

COOL GIRL:
Wanna-be witch and friend of Padroncino with a "secret" crush on him. Her relationship with Micia is not very friendly
BEN and SARIA:
Edward's friends. They live in the same manor.

?:
A girl who lived 300 years before and who seems to be connected to Edward's lost past.

THE MASTER:
A mysterious and dark presence.

CAP'TAIN & ROKYE, the CATS WITH SCARS
Micia's furry friends

THE FISHMONGER
Cap'tain & Rokye's favourite dining place.
SABINA:
Fishmonger's daughter. Unlike her father, she likes cats.
*Bella di Notte: (lit. "Beauty in the Night") is the Italian name of the Mirabilis Jalapa flower.
The flowers usually open from late afternoon onwards and close in the morning, preferring moonlight instead of sun light.
There is a legend about these flowers.
It says they were born from the tears of the moon who heard the sad cry of fireflies who could never rest on the petals of flowers during the night.
From her tears beautiful flowers that blossom in the night were born.